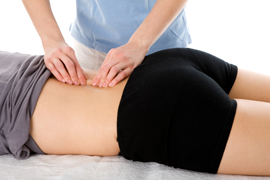 Our aim is to treat promptly, reduce pain, correct movement dysfunction and restore the patient to full function and health. It is our goal to prevent recurring episodes so we place a strong emphasis on patient education and rehabilitation exercise programmes. On your initial visit to the clinic our physiotherapists will take a detailed history, make an in depth assessment of your condition and will tailor treatment to meet your specific needs. We believe 'the hands-on approach' achieves best results and all physiotherapists in the clinic are highly skilled in manual therapy as well as exercise rehabilitation, electrotherapy and taping techniques. As part of our service we offer:
Physiotherapy Assessment and Treatment of a wide range of conditions and sports injuries…..see what we treat.
Hands-on treatment – manual therapy such as deep tissue work, soft tissue release, mobilisations, muscle energy techniques and manipulations.
Electrotherapy- we use a combination of interferential and ultrasound to reduce pain and swelling and speed up cellular repair.
Biomechanical Assessment and Orthotic Prescription – biomechanical dysfunction can contribute to a range of conditions including back pain, achilles tendiopathy/ tendinitis, plantar fasciitis, muscle strains, overuse injuries, pelvic pain, patellofemoral pain and chronic stress injuries. We use specific physiotherapy assessment methods combined with computerised analysis of your walking pattern and casting methods to assess your need for prescription orthotics. These insole devices are specific to the individual.
Rehabilitation Exercise Programmes– these programmes place a strong emphasis on core strengthening, flexibility and postural awareness – all key factors in the recovery and prevention of injuries. We design specific (individual) rehabilitation exercise programmes for you on completion of treatment for a variety of neck, back and sports injuries. We review your progress monthly and adjust the exercises to ensure progress is maintained and full function restored. Since implementing these programmes in 2007 we have received great feedback from patients and we have observed a decrease in the number of recurring injuries presenting in the clinic.
Pilates with Stott Certified Instructor – pilates is an exercise discipline that recognises the importance of strong core muscles to maintain a healthy body. In the clinic we offer pilates matwork, ball, stability chair and barrel workouts. These are intensive individual sessions with emphasis on correct positioning to ensure maximum results. Group matwork classes are also available with Caroline in the community.
Women's Health – we have a special interest in women's health issues, pregnancy and menopausal related problems. We assess and treat pelvic floor muscle weakness and its associated problems by implementing muscle strengthening and bladder retraining programmes.
House Calls – if you are unable to attend the clinic for any reason we will treat you in your own home.  This can include assessment of the home environment in relation to the patient's needs for independent living when required.
Nursing Home Visits – we visit patients who are both in short or long term care, link in with nursing staff and liaise with family members when appropriate.